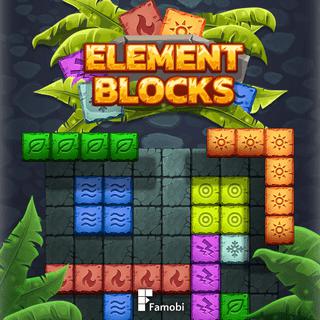 Element Blocks Game
Element Blocks Whether the elements in this crazy addictive puzzle game! Simply drag and drop the block shapes onto the grid in order to create vertical or horizontal lines and score as many points as possible. Only full lines will be destroyed, so plan ahead and keep an eye on the available pieces. The game is over if there's no space left on the grid to place a block. Collect stars to buy power-ups, complete achievements, and try to remove several lines at once to earn additional points!
To put off the inevitable end, you can use two power-ups: dynamite destroys a 3×3 area on the field while lightning removes all blocks of a specific color. Buy them with in-game currency in form of stars that randomly appear on blocks placed on the field. Make sure to collect them by including them in full lines and use the power-ups strategically as they become more expensive after every purchase. If you are in desperate need of more, try completing achievements, they also reward you with stars.
Element Blocks Game Play For Free
So what's the best way to earn points? Every action on the grid fills your multiplier and gives you points. Try to increase the multiplier over time while clearing several lines at once to boost your score. Do you have what it takes to earn a high score?
Element Blocks is an entertaining 10×10 game with power-ups.
Release Date
July 2019
Platform
Web browser (desktop and mobile)
Controls
Drag left mouse button to move and place a block.